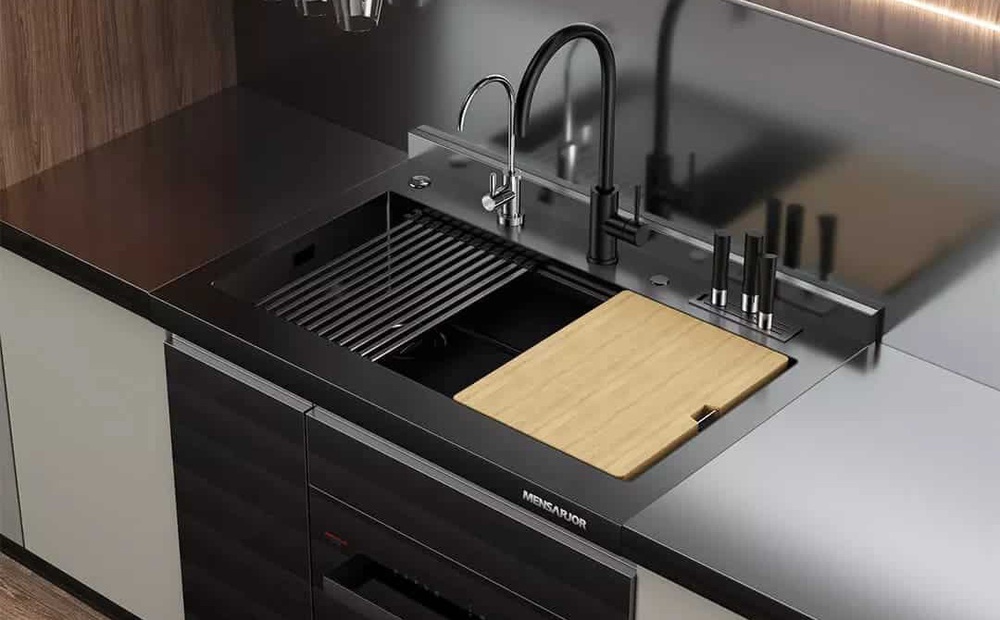 The project to raise capital for the multi-function kitchen cabinet Xiaomi Mensarjor on Youpin was a great success, expected to start shipping in the next few months.
Xiaomi is famous for its interesting and unique products for a long time, and it has just made an impression with a super versatile kitchen cabinet model, which combines a dishwasher, a garbage grinder, a water purifier, a dishwasher. ultrasonic wave, knife storage/drying rack and sink into a single unit. This will help families when building or renovating a kitchen that is narrow and does not have much space. Instead of having to buy many items and then put them together, now you only need to buy a single product.
The Xiaomi Mensarjor kitchen cabinet has a seamless design, with small components attached, so it looks just like a regular cabinet at a glance. However, the bottom right is a large cabinet door, inside there is a large capacity dishwasher, meeting the needs of a family of about 3 - 10 members. This dishwasher is integrated with both drying and sterilization modes, which are rare on product lines of about 500 USD or less.
The water purifier part uses reverse osmosis technology with a 3-level RO filter core, which handles harmful substances, bacteria, odors...in the water well. The machine has a high filtration rate, 1.6L per minute. The waste treatment machine uses a 370W motor, a sharp blade and a 1.17L grinder tank to grind leftovers. At this time, the waste can be discharged along the water stream down the drain without fear of clogging.
Dual sinks with a total capacity of up to 59L, integrated with an ultrasonic vibrator to help clean vegetables and fruits thanks to micro air bubbles, handle pesticides and harmful dirt. Just above the sink is a system that stores and disinfects cutting boards with heat and UV light.
The water circuit system is also intelligently designed to reduce the risk of damage, and integrates a leak alarm system for users to quickly detect and repair.
Because it is a Xiaomi product, it is impossible to ignore the ability to connect to the phone via the application. Users in addition to touching the control panel above the dishwasher can also control and monitor the operation process right on their smartphone.
Xiaomi Mensarjor kitchen cabinets have a starting price of 5999 yuan, equivalent to more than 942 USD for those who pre-order through the Youpin fundraising page. There is currently no information on whether Xiaomi will sell this product in other markets.